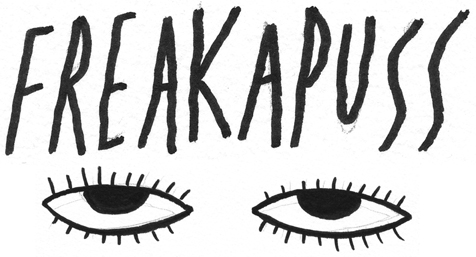 Background / History
Previously described as the essence of rock n roll, the UK's biggest underground star and 30 years ahead of the pop scene.
Part One Ziro Baby's underground kitchen (Through the sea of swirly twirly gum drops)
"I never make music to fit in with what is popular or trending. I make music for an imaginary audience that doesn't exist. I understand why some people don't like it but it is all the more special when they do". - Zarjaz
Just before the release of the Freakapuss long play album New 21st Century Dimension in 2015, M'lady's Records label manager Brett Lyman said the album has more rock n roll than 100 bands. The release was a true triumph. Freakapuss are a dimension unto themselves, receiving a great deal of respect while remaining underground.
The feel of New 21st Century Dimension is low key, sawdust floor circus rock n roll, guitar and gongas combo. New 21st Century Dimension breaks all the rules, uncompromisingly changing styles jumping from the pure pop of You Nice Me Love and With All My Love, to the hard pumping rock n roll of Moon Honey and Some Like It Hard and then to the dreamy and surreal atmosphere of The Day Of The Night. The album mainly takes its influences from pre Beatles, rythm n blues, jazz beat and pop, mixing a kind of early rock n roll version of New York Dolls with the Ramones and then adding something like Carole King on hallucinogens, never nostalgic but always rooted in the 21st Century.
Comparing New 21st Century Dimension to the rest of the music scene, firstly it is clear that Freakapuss priorities are not with appealing to stereotypes. It is clear that Freakapuss are unique in many ways and above all challenging to musical preconceptions, where in the 21st Century it could be argued that industrial, grunge and disco no longer are.
Zarjaz is a multi faceted underground musician and producer and possibly one of the truest and original, the music world has seen for many years. He has been acknowledged as a genuine creative genius working off the radar of the manufactured mainstream but active enough to be a forerunner and influence, albeit excluded from open recognition. He has been described as a true ghost in the machine.
Looking at Zarjaz, his past history reveals a mysterious artist, charismatic and often private to the point of complete anonymity. He is more like an anti rock star, rarely making live appearances or interviews, remaining truly a remarkable phenomenon. Zarjaz has also been known to say "I won't do a thing for publicity". By doing this Zarjaz has avoided what the media, under normal circumstances, would have seen as a field day with more than the usual sex, drugs, rock n roll and eccentric behavior we see in the mainstream acts in the tabloids. The presence of Zarjaz on today's music scene does bring about important questions. He is here and in a way that shows that contemporary music histories that exclude him can be incomplete and inaccurate.
"I have spent my whole life fighting to be what I am and not what people tell me I am". - Zarjaz
He began recording life as Ziro Baby, with his group Tronics, always interested in sci fi and fantasy. Some of his earliest sci fi artwork was made when he was trying to draw comics at 6 years old. The name Zarjaz came from friends tagging him with the nickname which was a word in the popular comic 2000 AD. Zarjaz got permission from the comics publisher to use the word and he kept the tag.
Zarjaz has always been the epitome of "Cyber Punk", in the sense of "a cyberpunk will listen to anything", but keeping to a sense of living in an electronic / digital, disutopian society. Zarjaz was thirteen when he played guitar and sang in his first group. This group was called The Star Dogs and was also a teenage street gang he was involved with at the time. The Star Dogs turned down the chance to be on a TV talent show, refusing to tone down their appearance that was described as "outlandish". Even from this stage and ever since, Zarjaz has shown the intention to make music on his own terms and not pander to the whims of commercialism. Zarjaz was described by Melody Maker as having an "underground reputation" and being "the essence of rock n roll".
Zarjaz has worked and recorded with some highly respected rock n roll artists that include Jon Slade, Jay Hough, members of Eddie And The Hotrods, Dogs D'Amour, Crystal Stilts, The Jam, The Revillos, Adam And The Ants, Pink FA, Veronica Falls and the Wombles.
The original sleeve notes to the Freakapuss album Supernatural High mention a time when Zarjaz turned his back on fame due to an incident when he was recognized on the street. The comment is in itself something of an understatement. The incident in question came at a time when Zarjaz was experiencing scenes of teen hysteria outside and around his apartment in London. Seeing crazed, sometimes screaming girls outside on the street was normal. The unusual thing about this was that although the hysteria was noted in the music press Zarjaz was not receiving the kind of promotion commonly associated with that level of adulation. This was all off the back of a few London gigs and his independent releases. But the disturbing effect it had on Zarjaz was probably enlarged by an earlier event before Tronics. Zarjaz was mobbed by a number of girls in the security wing of a mental hospital, where he was visiting a friend. The girls said they believed Zarjaz was Jesus. Whether the girls were acting out of hysterics or naughtiness is a question for Zarjaz but the level of hysteria was so intense that Zarjaz was pushed out of the building by nurses trying to calm the situation and Zarjaz was left outside to watch the girls throwing themselves at windows to get to him.
Zarjaz has always shown interests in the supernatural, believing that if in a stoic philosophy a healthy life is a balance of good and evil, there must be a balance between life and death / death and life. Zarjaz's disturbed past has always been punctuated with hauntings and visions. One in particular Zarjaz speaks of is that he is haunted by a female singing voice behind walls and bushes. An early event in the Zarjaz legend comes from when he was only 2 years old. Being born in a rat infested slum, before having to move from the condemned property he contracted pneumonia from the poor conditions. One evening his grieving parents were told he would not make it through the night. He survived and one morning soon after his parents entered the ward he was in to find him sat up in bed, surrounded by Hells Angels, who were teaching him how to swear. The legend goes that his parents were so happy to see him they didn't mind the Angels saying "he's one of us", or baby Zarjaz telling everyone to eff off. Perhaps coincidentally, followings of Hells Angels were reported to attend Tronics gigs in the music press during the 1980's.
The separation Zarjaz sometimes adopts with the music industry often leads to consternation but his distancing is more psychological than can be immediately understood than personal. Already distant, Zarjaz spent a time of deeper reclusion during the latter part of the 1980's following an episode when during an argument, a girlfriend at the time told him that she had 8 abortions of his babies. What must have been a more human side to Zarjaz snapped. Zarjaz has said that he looked down and saw their faces looking up at him and he felt the sudden loss of all his children, causing him to suffer a severe breakdown. This time it was Zarjaz that found himself in the mental institute where he spent some time before a long period of absolute reclusion where he could only go outside escorted by nurses.
Zarjaz confronts supernatural skeptics, openly saying that skeptics are often people who have not experienced a true supernatural event. Another fact to confound skeptic claims that supernatural events are often attempts to gain attention is that in the case of Zarjaz, the question arises, why would someone obviously seeking reclusion, a fact supported with psychiatric data, be seeking attention by claiming supernatural happenings?